Scott Stock Farm - a family operation ::

Jonathan, Camille & Family
Scott Stock Farm (SSF) is a family run Purebred Angus operation with both Black and Red Angus genetics. The Scott family have been breeding Angus cattle for nearly 30 years. It is owned by Jonathan and Camille Scott along with their children; daughter Shelby and son Bow. Jonathan's parents, Earl and Debra Scott are still a big part of everyday operations and offer knowledgeable advise. SSF consists of 300 mother cows.
We believe in using EPD's as one of our selection tools for picking out top genetics. Along with performance data we examine each animal we are buying or selling to ensure it has the following top 5 traits: overall eye appeal and Angus Characteristics, thickness, structurally sound feet and legs, length of body and fleshing ability. We avoid single trait selection by using a range of selection tools.
Artificial Insemination (AI) is a very big part of our breeding program. We AI all our cows on their first cycle to some of the top AI sires in North America and then they are kicked out with our selected herd sires that we have purchased. Although AI is very time consuming we feel it allows us to bring in new proven genetics with high accuracies. We time breed our heifers each year and the cows are bred on natural heat.
We host an annual Bull Sale the 3rd Friday in March held at our Farm (3 miles east of Crossfield). It is a video sale and we market around 65 bulls. Some years we also market a select group of commercial heifers. We have one of the best meals with AAA steaks, and tasty homemade pies. Expect good cattle, good deals and a really good time. You won't know if you don't go.
Our goals are to maintain around 300 top qualify cows by working on improving feet, udders and fertility. We aim towards selling around 90 bulls annually as well as a select group of females.

DIRECTIONS TO SCOTT STOCK FARM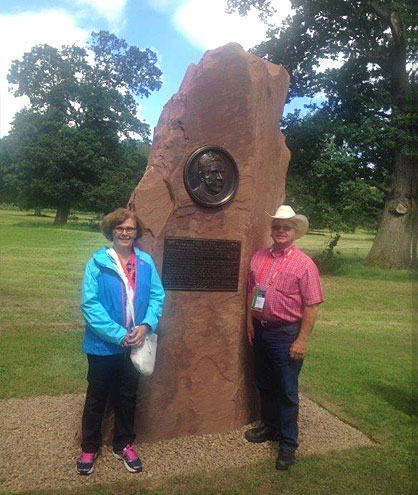 Earl & Debra Scott June 2017 - Giamis, Scotland; Hugh Watson Memorial
In June of 2017 Earl and Debra Scott attended the World Angus Forum in the UK. We traveled to numerous herds in both England and Scotland but one of the highlghts was attending the unveiling of the memorial plaque of Hugh Watson at Giamis Castle, birth place of the Queen Mother.
Mr Watson was one of the founders of the Angus breed when he decided on breeding solid color black cattle that were polled. This was in the early 1800's. It was really an honor to have attended this conference and learn about the four main founders of the breed.

The next generation at SSF at their 4-H Achievement Day